Wednesday, July 16, 2014
I am obsessed with
ponzu sauce
. It's kind of ridiculous - I'm putting it on everything... seafood, pork, chicken, cucumbers, tomatoes, celery, asparagus - I even tried a
ponzu vinaigrette
.
Ponzu sauce
is a light, salty, citrusy sauce from Japan. It looks like soy sauce, and can be found right beside it on grocery store shelves. The sauce is made from rice vinegar, rice wine, fish flakes, seaweed and fruit juice from one or several Asian citrus fruits - most popularly,
yuzu
.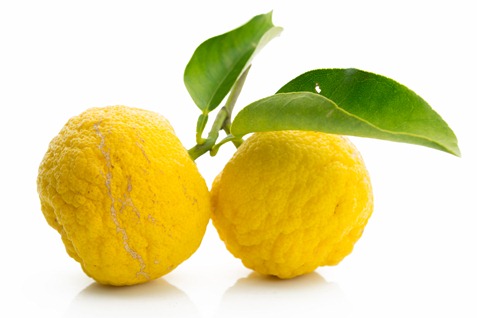 Yuzu looks like a really old orange.
The ingredients for Ponzu sound weird, until you realize that the ubiquitous soy sauce is made from fermented soybeans, roasted grains, a salty brine, and mold. Ponzu is freaking basic, in comparison.
I'd like to share the easiest freaking recipe I have tried in forever. And it didn't require cooking, or... well, much at all, really.
Cucumber-Crab Salad
2-3 cucumbers, sliced thick, and then halved. I never peel them, but you can, if you prefer. Incidentally, seedless mini cucumbers work better, but they're way more expensive. (About $2)
2-3 minced green onions, or 3-4 tsp of minced sweet yellow onion ($1)
1 Tsp of minced garlic (20 cents?)
8 oz chopped fake crab ($3)
1/2 cup to 3/4 cup of Ponzu sauce (50 cents)
Squeeze of lime juice (5 cents)
Fresh black pepper (Isn't this basically free?)
Okay, here's how you make it. Ready? Chop everything up, throw it in a bowl, and pour ponzu sauce on it. Marinate in the fridge for 30 minutes to an hour.
Oh. Not specific enough. Fine. Here you go.
Step 1:
Throw the first four ingredients in a bowl, squeeze the lime juice over it, and crack some fresh pepper over it.
Step 2:
Pour over as little or as much ponzu sauce as you want.
That's it. No, really. It's a lot like making
ceviche
. You can chill it in the fridge and let it marinate for 30 minutes to an hour, or you can eat it immediately.
Add or subtract the whatever amount of garlic, onion, and pepper you like. I love lots of black pepper, and a dash of ground sea salt just before serving. For some, adding sea salt would make the dish too salty.
Variations
:
1. Add whatever veggies you want to the marinating bowl. Asparagus and tomatoes worked well. I tried edamame; and while it didn't work in the marinating bowl, it was lovely when added in at the last minute. Broccoli and carrots were a bust. Celery was just okay.
2. Serve it over a garden salad.
3. Serve it over warm rice, with more ponzu to taste.
4. Instead of crab, use coarsely chopped shrimp, ahi, or salmon. I prefer not to cook the seafood, unless it's shrimp. I just let the marinade cook it. But it's totally up to you. I do recommend that you only cook it lightly.
5. Mix in some broken, cold Ramen, Udon, or Sobe noodles. Ahhh, carbs. How I love you.
6. Top with fresh chunks of avocado.
7. Dice the cucumber instead of slicing, and serve with pita chips or pretzel chips.
8. Add a couple of dashes of Sriracha to the ponzu sauce and whisk before adding to the bowl.
Really, feel free to make this recipe your own. Just give the versatile, delicious ponzu sauce a try.