Friday, July 11, 2014
AUGUSTA, GA - I'm not that big on makeup. Lots of days I forget to put it on. And when I do, it's almost always just eyeliner, mascara, and a little lipstick. But I acquired a sample of
Maybelline Fit Me foundation stick
, and gave it a try.
One of the reasons that I don't wear a lot of makeup on my skin is that I have very oily skin plus
rosacea
. Ideally, I'd find a product that can minimize the redness and tiny red veins on my cheeks. I have very little expectation that there's a coverage product out there that can provide all of the benefits I'm looking for without exacerbating my skin into the lumpy mess it previously resembled.
Not actually me, but about the same as my face without any coverage - flushed, with broken capillaries.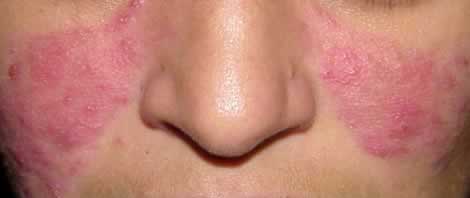 About what my skin looked like a couple of years ago.
But I'm always happy to try another foundation, BB cream, CC cream, or tinted moisturizer. Especially if it doesn't irritate my rosacea AND can mattify my oily skin, plus somehow simultaneously moisturize it and pump it full of anti-aging benefits.
Moisturize AND mattify. Right. I'll let you know when I find this miraculous elixir of contradictions.
Maybelline
is not a company whose products I usually go for. Like, ever. I think of them as appealing to young people who are just experimenting with makeup. I put them and
Bonne Bell
in similar categories. Probably because their models are all about 13 years old.
Foundation sticks are out of the norm for drugstores, but every once in a while a company releases one. The idea is you draw it on your T-zone - or wherever your skin needs to most coverage - and blend outwards from there.
The Maybelline Fit Me stick foundation felt as one would expect it to feel: thick. And that's how it went on. Despite my clean, exfoliated, freshly moisturized skin, I had a hard time blending the foundation outwards. So I got some uneven coverage that I had to correct. To do it, I had to add more moisturizer, negating some of the mattifying ability of the foundation. Moral of the story: This stuff dries quickly. The second day I used it, I moved much faster and it blended a little better.
The coverage was fine, but wasn't right for my skin type. The powdery finish seemed to sit on top of my skin, and whether or not it actually highlighted the fine crow's feet around my eyes, I felt like it did.
As for staying power, I got maybe four or five hours into the day before I felt like I should reapply on the T-zone. But I hate reapplying foundation during the day. I feel like I should just take off everything and start over, as opposed to reapplying over the powder and grime of the day. But, for those who don't mind it, the stick foundation is a very portable way to do it.
Ultimately, I think this is formulated for a core audience of teens and young adults who need the oil-reducing properties, but don't worry too much about drying. If you have ever looked at yourself in the mirror round about noon and thought, "When did I run my face into the Exxon Valdez?" then this product might be something for your to try.
So, if you have a very active teen with oily skin who also likes a full coverage foundation, this might be a great product for them. If your teen has dry skin, I recommend they stay far away from it. They might end up looking like
Benjamin Button
- and
not
during the hot Brad Pitt middling years.
Nope. Sorry.
Because the real issue with having oily skin as a teen is the acne.
Of course, the issue with having oily skin in your twenties is the shine. Then, again, the issue with having oily skin in your thirties is also the shine.
In your forties, it's still the shine, only with the added minefield of fine lines. I swear, I spent the previous three decades trying to figure out how to dry the surface of my skin of oils. Now, I'm trying to dry my oily skin without drying my skin of all moisture and looking like
Emperor Palpatine
before I must.
These are not the wrinkles I am looking for.
I am still searching for that perfect product. If you have a suggestion, please leave it in the comments.