Friday, July 18, 2014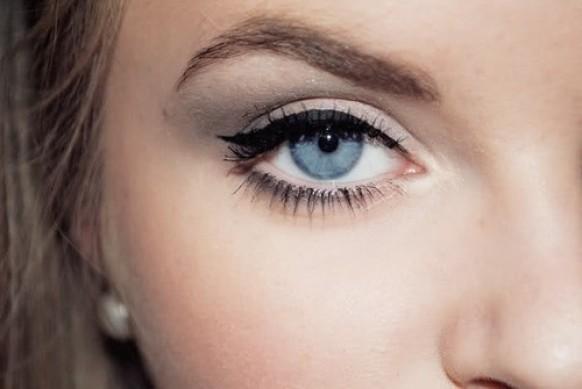 This is not my eye. Wouldn't that be great, though?
AUGUSTA, GA - We covered previously that
my makeup routine is pretty minimal
. No concealer, no
contouring
, no primer, no setting spray, no blush, no
brow-fiber-adder
, no
face bra
, or any of the dozens of other products available to cover what the beauty industry clearly feels is a woman's natural state of disgusting-ness.
But I do love my eyeliner and mascara. Recently,
Birchbox
introduced me to
Benefits They're Real mascara
. Done. This is the stuff. Best mascara EVAH! Here's my product review for Benefits They're Real mascara: "Don't buy anything else." No need for a whole blog post about that.
But I'm still searching for the perfect eyeliner. Rather quixotically, I might add. I am a total klutz, and not actually very good at applying makeup, probably because I am usually putting it on in my car at stoplights in the morning. So I need something relatively foolproof, that requires little in the way of smudging and blending, etc.
I love the winged eyeliner in the photo above, and that's usually my goal. I had been using
Physician's Formula eyeliner pen
and it worked fine. I didn't get a dramatic line, but it was strong enough.
Goodbye, old friend.
Except... everywhere I went, it was out of stock. No one had it. Anywhere. Oh, they have the new
Physician's Formula Lash Boosting Eyeliner
, which claims to thicken and lengthen your lashes, but it has a brush tip. That's never going to work with me. I'll end up looking like
Taylor Momsen
.
In fact,
all
eyeliner pens were sold out.
From every manufacturer
.
CoverGirl
does a liquid pen.
E.l.f.
does a liquid pen.
Maybelline
does a liquid pen.
Freaking everyone does a liquid pen eyeliner.
So why was
Revlon Colorstay
the only liquid eye pen I could find?
I was about to find out.
I found it by chance at the stupid Wal-mart in Grovetown, which has the Most Annoying Aisle Layout in the World. It's like a maze. I hate it. But they had liquid pen liner, so... yay.
I didn't open the eye liner until Monday morning, when I was getting ready for work - in my bathroom at home, for once. It glided on smoothly, and gave me a very precise, dark, line. It was perfect! I finished getting ready and got in the car.
I noticed in the car's rear-view mirror that there was a black smudge at the outer corner of my eye. I swiped it off and didn't think about it again for 30 whole minutes, until someone at work mentioned that I had a black smudge
under
my eye. I wiped it off and went to look in the mirror. Uh-oh. Not good. I swiped at the corner of my eye with a damp tissue. Disaster. The harder I tried, the smudgier it got.
Crap. I'm going to start carrying makeup remover.
It's not a waterproof formula, so this was ridiculous. It just smudged around. I mean, it
color-stayed
, all right. But not in the right places, and getting it off was a nightmare. The liner just followed the tissue around my face, as opposed to wiping off onto the tissue or
color-staying
in place. It was like the loaves and fishes of eyeliner fails.
Not me. But pretty close.
The next day, I tried it again, this time with a sample of
Urban Decay primer
that I've had for about two years. But at 9:30 a.m., an Internet funny made me laugh so hard that tears came to my eyes. And that was all she wrote, folks. The eyeliner migrated down to my cheekbones, and the NFL tried to recruit me as a kicker for the Raiders. Hey,
I can't make them any worse
, amIright?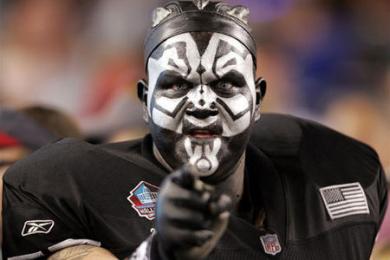 This is my sexy date-night face, courtesy of Revlon. You like?
In conclusion: Revlon ColorStay Liquid Eyeliner Pen would be a great marker with which your kids can draw all over the walls. Or, if you're too young for kids, maybe you want to give your passed-out drunk friend a
marker makeover
(although, if you do this to a friend, as opposed to taking care of them, you are
not
actually their friend). Those are wonderful uses for Revlon's liquid eyeliner pen.
But for lining my eyes, I'd rather
use a Sharpie
. At least I know that color will stay. And not smudge.