Wednesday, December 03, 2014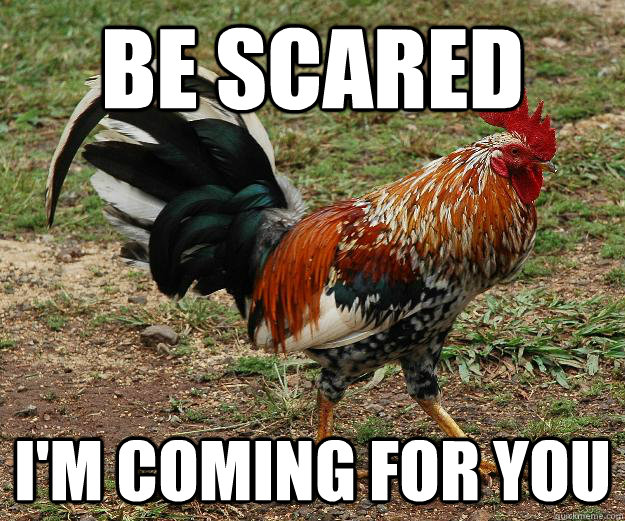 DISCLAIMER: No one show my mother this post!
AUGUSTA, GA. - My mother has a thing for chickens. She grew up with them while spending summers on her grandmother's farm, and has a fondness that has lead her to decorate her house with them.
It's flocked up. She has folksy rattan chickens, and chicken serving platters, and chicken hand towels, and chicken pot holders. Once I bought her a very expensive hand-blown glass chicken at a museum gift shop just so I could say, "This here is a fine art chicken." It sits on top of her refrigerator.
Y'all, we are all full up on chickens.
BUT... recently I remembered
this hilarious post from The Bloggess
, and tried to find a similar giant metal chicken for my mother's yard. I don't think I can properly capture my inevitable glee at witnessing my mother waking up Christmas morning to a giant metal chicken staring menacingly into the sliding glass door from the back patio. I would crow about it for years.
Side story: Once, my sister and I decided it would be a great idea to steal a giant fiberglass
Mayfield Dairy
cow that was on display at a new grocery store in Monroe, Ga.
Moo.
It was very late at night, and we were on our way back to Conyers from Athens... where we had been reading classic literature to elderly blind nursing home residents, of course. Anyway, the cow was already on a trailer, and we thought we could just hook it up to the car and drive off with it - just to see our mother's face in the morning when she went to get the paper and BAM!! Big-ass cow for the win!
It's okay. They have extras.
That experience didn't work out so well. And while I have tried not to brood about it, I have spent nearly two decades disappointed that I don't have a plucky "you should have seen the look on her face" story about my mother finding an enormous stolen fiberglass cow hooked up to her old Cadillac in the driveway one random Sunday morning.
I really am terribly disappointed.
My Christmas wish is that a giant metal chicken will appear in my mother's yard one day. I am thinking of starting a GoFundMe campaign to buy one. Let me know your thoughts.