Monday, June 30, 2014
AUGUSTA, GA. - You know you're at a great show when they have to use a shop vac to suck up fake blood at intermission. In the "splatter zone" at the

Trustus Theater in Columbia, S.C.,

audience members at

"Evil Dead: The Musical"

wiped a crimson mixture of who-knows-what off their arms and legs, while a stage hand dried the boards. Behind them, my date and I grinned stupidly at each other. This was exactly the experience we had anticipated.
Like the film, the stage production follows Ash, the character Campbell originated, as he leads a group of

five spring breakers to a cabin in the woods. There, amid the collegiate debauchery, they discover a 13th century book called "The Necronomicon" ("Book of the Dead") and - oopsy! - unleash a hoard of Candarian demons. Each member of the group is possessed by a demon or turned into a zombie at some point, except Ash. He loses a hand, replaces it with a chain saw, uses it to decapitate his girlfriend and... errr, it's a little complicated. Don't think about it too much.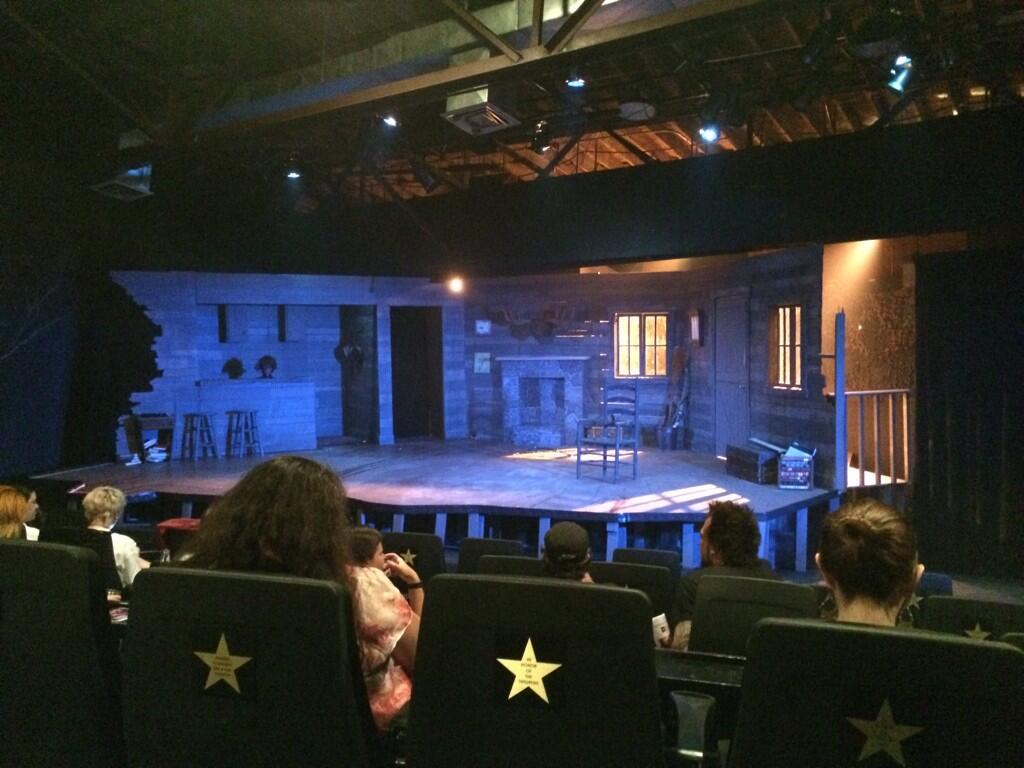 The set of "Evil Dead: The Musical" at the Trustus Theatre in Columbia, S.C.
Designed in the manner of "The Rocky Horror Picture Show," with self-referential dialogue and over-the-top plot constructs, the only way this horror comedy musical could get cheesier is if it were staged in Wisconsin at the

Great Wisconsin Cheese Festival. This is high camp, played for laughs. And it is idiotically effective in its pursuit.
Anyway... The song listing in the show program, with titles like, "All the Men in My Life Keep Getting Killed By Candarian Demons" and "Ode to An Accidental Stabbing," were enough to set the audience giggling. During the performances, I could hardly hear the lyrics over the laughter, at times.

The highlight of the show, for me, was the rousing tune called "What the Fuck Was That?" Here's a video of the song from some other production, somewhere else entirely. Thanks, Internets!
The raked set was perfectly constructed and dressed. As for production values, there were a few small issues with the actors' mics cutting out mid-sentence or mid-song, and not all of the stunts, costumes, makeup and props were as effective as they could be. Eh. It's still bloody hilarious.
The show runs through July 26.

Tickets are $20. Free popcorn is included. Parking is free after 6 p.m. at the metered spaces near the theater.